The most valuable thing you can do to succeed is to hone your craft. The most enjoyable thing to do is to learn new skills. It can be thrilling. Here are some programs that guide you towards new horizons.
---
What an important, empowering skill to have! Reading music is a huge asset in the music world. This program will guide you gently and enjoyably. It is not about rote learning, it is an effective system developed by a veteran music teacher.
Now is the time to learn to read music!
---
Voice Training and Vocal Techniques
Learn to sing with a combination book/e-book and seven CD program called Vocal Release
If you want to be able to sing those high notes with clarity and power, Eric Frey's Release promises to give you that ability. The author stresses the technique of the " mask attack" , a respected vocal technique based on creating proper resonance in the " mask" , the area around the eyes, nose, and forehead.
---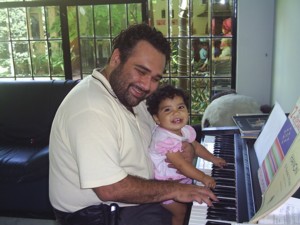 Play Piano Like a Pro!
Mr. Ron's Music offers free online lessons as well as online keyboard lessons for users of electronic keyboards. These free beginner piano lessons offer proven tips, tools and tactics unlike any other free online piano instruction course on the internet today. These free online piano lessons provide insights into various styles of piano performance.
---
Hear And Play - A Unique Piano Learning Program
---
Rocket Piano
The easiest to follow system for learning to play the piano available. It is jam-packed with quality information, including hundreds of sound files, pictures, diagrams, videos AND step-by-step instructions training you to play by ear so you can to play virtually any piano song that you ever hear
---
Jamorama
Learn how to play virtually any guitar song you hear. Whether you want to start a band, perform at clubs, write your own original songs, or just become a great guitarist. No matter what level you are at now (beginner, intermediate or advanced), this program will get you going fast.
---
The Mastering Guitar course includes 3 high quality ebooks, each with photos and professionally transcribed notation, so you will have no problem following along. The course also includes over 400 audio files and over 300 exercises... That's more than 2 times what any other course offers!
Discover how to read music notation and tablature with the help of 'The Guitarist's Guide To Reading Music Notation'.
Learn all the core guitar playing essentials such as, hammer ons, pull offs, palm muting, string deadening, slides, a variety of bends, and lots more!
Learn hundreds of open chords and barre chords with the aid of my revolutionary software, 'Guitar Chords Pro'!
---
Every day, concert promoters are making huge sums of money booking shows. And you want to know how they do it. It's crazy. Top promoters are looked upon as celebrities in this business and some of them started with nothing but a dream. If you ever wanted to enter into this lucrative career but just needed right information to get started, or, if you've tried but failed and lost a lot of money in the process, stick around.
This book could change your life.
---
An MMO compact disc is a recording of a selection, or a concerto, performed by full orchestra or chamber ensemble or jazz band, to which you would contribute the solo part, using the music provided with each album. Every MMO edition is created to the highest Quality Standards. We use only the best orchestras and soloists and the most advanced recording methods.
All newer albums feature newly engraved printed scores, on beautiful acid-free ivory paper, often in unique definitive editions with annotations and performance suggestions from our world-class artists.
Genres range from classical to to pop, and are available for many instruments, including voice, drums, guitar, violin, saxophone, piano and more.
You can license any composition in our catalogue to make a compact disc recording featuring your own voice or instrument. We offer the singer or musician the opportunity to create something of great worth and lasting value. As audition material to submit to agents, talent scouts and schools, these recordings are absolutely the best, easiest and least expensive way to get their attention. Measured against the cost of hiring players, arrangers and a studio which are truly astonishing these prices are a true bargain. Remember also, your best efforts will be showcased through the advantage of working with familiar material that remains unchanging take after take, until you get the version you want.